Filter Equipment Application
Views: 0 Author: Site Editor Publish Time: 2017-10-19 Origin: Site Inquire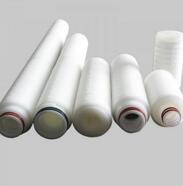 Shijiazhuang Yitong company is a Filter Equipment supplier many years.Do you knowFilter Equipment Application?
Filter equipment refers to the mechanical or equipment used for filtration, and it is a common equipment in industrial production.
The filtration equipment is divided into two categories: vacuum and pressurization. The vacuum type usually includes rotary drum, disc, horizontal belt and so on. The common types of pressure are filter press, press, dynamic filtration and rotary type.
Filter equipment is one of the main equipment for water quality pretreatment. The corresponding design scheme according to the situation of water quality, efficient removal of suspended solids in water, colloids, sediment, clay, humic matter, particulate matter and other impurities, reduce water turbidity, water quality to achieve the purpose of clarification. Filtration equipment is a generic term for a variety of filtration facilities, which refers to the mechanical equipment or equipment used for filtration, which is common in industrial production.
It can be used in many industry:
Pharmacy industry
Chemicial industry
Food and Beverage industry
Water treatment industry
Electronics industry