Filter Element Hydrophilic PTFE Pleated Filter Cartridge for Water
Views: 0 Author: Site Editor Publish Time: 2021-06-17 Origin: Site Inquire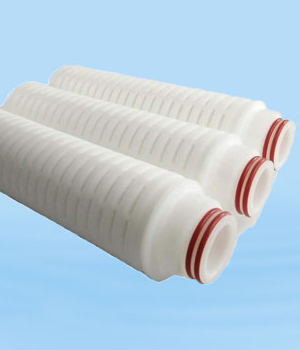 The hydrophilic polytetrafluoroethylene membrane pleated filter is composed of advanced absolutely rated hydrophilic polytetrafluoroethylene membrane and high quality polypropylene.In addition to providing high porosity and permeability, PTFE Membrane Folding Filters provide high dirt holding capacity for reduced replacement, high flow, long service life and low pressure drop.
Hydrophilic polytetrafluoroethylene membrane pleated filter specifications:
Hydrophilic polytetrafluoroethylene
Length 5", 10", 20", 30", 40"
OD 2.75 "(70 mm)
Filtration performance :0.05μm, 0.1μm, 0.2μm, 0.45μm, 1μm
Core polypropylene/SUS316
Filter support polypropylene
Sealing ring/O type sealing ring silicone, EPDM, ethylene fluoride, nitrile butadiene rubber, Teflon encapsulated ethylene fluoride
End cap/cage polypropylene
End-cap DOE, 222/ flat, 222/ fin (code 3), 226/ flat, 226/ fin (code 7), 215/ flat, 215/ fin
Hydrophilic polytetrafluoroethylene membrane pleated filter features:
PTFE membrane is the best acid and alkali resistant membrane
Each part is sealed and welded by hot melt
Hydrophobic polytetrafluoroethylene microporous membrane has a wide range of chemical compatibility
Accurate aperture, uniform aperture distribution
Low initial pressure difference, large filtration area, long service life
High temperature and pressure resistance.
Polytetrafluoroethylene membrane pleated filter cylinder application:
Sterile exhaust air inlet for fermenters, storage tanks, batching tanks, etc.
Steam filter
Filtration of high purity gases in the electronics industry
Germicidal filtration of compressed air and organic solvent